This week I've read the second half of Chapter 3 of 'Overcoming UnderEarning' by Barbara Stanny.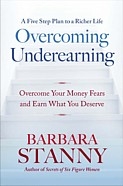 This next section is titled: "The Most Important Financial Advice You'll Ever Get". And the answer is:
You've got to be willing to be uncomfortable.
Its making me nervous already … so basically, we have to change to increase our earnings – and that change will be discomforting. At first anyway.
Kind of an aside, but she mentions that she's met women who didn't start making lots of money until they were in their 50's, 60's and 70's – that makes me feel hopeful!
Barbara ends this chapter with 'Eight Rules for Achieving Remarkable Results'. I can't list them all here in part because I'm too lazy and a slow typist to type it all in – also maybe she doesn't want me giving away too much of her book for free.
But here's the ones I thought were best – underearning can no longer be an option, keep your commitments, don't let yourself get derailed, do what you dread.
She mentions that if you don't do what you say you are going to, it chips away at your self-esteem. I think she has a point there. I've definitely let outside distractions keep me from doing some of the things I know I need to, to be successful and then I feel bad about it.
Anyone else experience this?
Time for my favorite quote from this section:
"The only thing money gives you is the freedom to not worry about money."

— Johnny Carson
Next time – Chapter 4.
________________________________________
If you like this post please share or vote for it below:
Stumble:
Kirtsy:
delicious:

reddit:

Digg:

________________________________________
If you like my blog please subscribe to read updates in a feed reader (what does this mean?) or by email!

Thanks! I really appreciate all your support!
________________________________________
Related Posts:
One Response to 'Overcoming Underearning: Book Review Part 4'
Subscribe to comments with RSS or TrackBack to 'Overcoming Underearning: Book Review Part 4'.



on June 3rd, 2008 at 2:03 pm

Someone just sent me your blog. I was so excited to see it. Thank you so much, Trisha, for blogging about my book. You did a great job. And to answer your (sort-of)question, I have no problem with you revealing any information from my book that you want…that's why I wrote it…to inspire others to up their earnings…and change their lives.

With deep appreciation,
Barbara Stanny
http://www.barbarastanny.com
Leave a Reply
Comments protected by Lucia's Linky Love.