This week I've read Chapter 4 of 'Overcoming UnderEarning' by Barbara Stanny.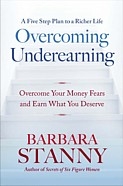 Starting with this chapter Barbara goes through the 5 steps to make you a 'doer'.
Step 1: Tell the Truth
"Telling the truth is a prerequisite for higher pay."
There are 4 exercises* in this chapter.
Exercise 1: Pinpointing the Problems
In this exercise she has a Problem Indicator Checklist. It seems to be mostly points about how you handle your money. Now for me that isn't the problem. I can take care of the money I have quite well. My problem is not being able to make more.
Exercise 2: Digging Down to the Roots
These have to do with how you feel about money and where you may have learned these responses. She also quotes in this section from Oliver Wendell Holmes "All limitations are self-imposed". Now I don't think this is literally true – there are just some things I wouldn't be able to do due to size, age and other things. But, what I really would like to be able to do at this point in my life I'm pretty sure I am capable of doing.
Exercise 3: Replacing Beliefs
Here we are supposed to list everything we believe about ourselves and money and write a new belief to replace the old one. In my case I wouldn't really know what to write here. I think my problem has more to do with my inability to be able to see myself as the type of person who could be earning that much money. As much as I want it, people who are really successful seem somehow different from me and I have doubts about if I can really do what they are doing.
Time for my favorite quote from this chapter:
"The truth is the only safe ground to stand on."
Next time – Chapter 5.
*the first exercise had 2 parts, I think that is how she counted 4 exercises
________________________________________
If you like this post please share or vote for it below:
Stumble:
Kirtsy:
delicious:

reddit:

Digg:

________________________________________
If you like my blog please subscribe to read updates in a feed reader (what does this mean?) or by email!

Thanks! I really appreciate all your support!
________________________________________
Related Posts:
One Response to 'Overcoming Underearning: Book Review Part 5'
Subscribe to comments with RSS or TrackBack to 'Overcoming Underearning: Book Review Part 5'.



on June 20th, 2008 at 1:53 am

Replacing our beliefs with new ones isso important and definitely a move in the right direction.

Our beliefs have been ingrained in us from what our parents believed and constantly spoke about possibly on a daily basis eg money.

Healthy beliefs about money are important. Money also allows you to make a difference in the lives of others…

It's so important to be knowledgeable about finances and the many choices that are available.
Leave a Reply
Comments protected by Lucia's Linky Love.