This week I've read Chapter 8 of 'Overcoming UnderEarning' by Barbara Stanny.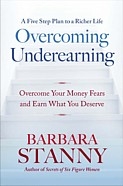 In this chapter Barbara goes through step 5 of the 5 steps to make you a 'doer'.
Step 5: Respect and Appreciate Money
The name of this step pretty much describes what this chapter is about. Now, personally, I don't have a problem with taking care of the money I have, my problem is figuring out how to make more of it. But given the rate of savings in the U.S. and how much the average person is in debt, this chapter is probably pretty valuable to a lot of people out there.
"If you want it to last, you've got to take care of it."
Barbara says that she met many people while researching this book and that "the ones with the highest net worth were not necessarily the ones who made the most money".
Next she lists the Four Rules of Money:
1) Spend less

2) Save more

3) Invest wisely

4) Give generously
She also discusses how you need to shift your mindset from whatever it is now to that of a wealth builder.
From my own experience I can say that, yes, at times it was difficult to go without something I wanted – but I keep a close eye on my savings account. And it felt really, really, good to see that number get bigger and bigger over time. Sure, it takes a while. You have to be patient. If you can only save a little bit each month it takes a while, but it does all add up. And once I had a decent amount saved I was able to think about actually investing some in mutual funds. I ended up buying the 'Mutual Funds for Dummies' book and that really helped me a lot to understand what I needed to do.
Anyway, back to the book:
This chapter includes a 2 part exercise also:
Part 1: Track your Spending
Part 2: Spending Review
These are really important. I used to keep a notebook where I would write down everything I bought, all my expenses, etc. And see where I could cut back so I could save as much as possible.
Barbara is really giving some good advice in this chapter – do what she says and in a few years you will be very happy that you did!
Next time – Chapter 9.
Time for my favorite quote from this chapter:
"My advice to you is if you can't afford it, don't buy it."

— Warren Buffett
________________________________________
If you like this post please share or vote for it below:
Stumble:
Kirtsy:
delicious:

reddit:

Digg:

________________________________________
If you like my blog please subscribe to read updates in a feed reader (what does this mean?) or by email!

Thanks! I really appreciate all your support!
________________________________________
Related Posts:
Leave a Reply
Comments protected by Lucia's Linky Love.