I had planned to relaunch around the 1st of March – but I can see it will be later than that now. I haven't had time for much anything.
1) my computer is about dead. I've got a new one ordered – but meanwhile I've been doing lots of backups of everything and checking into everything else new I need. Which is a lot. My current printer is like 9 years old for example.
2) My mom's needed her cataracts removed and I've been helping her with that.
3) we've got kittens – I've had a lot of kitten-proofing to do. And a lot of allergies to manage.
Butters and Captain Chaos: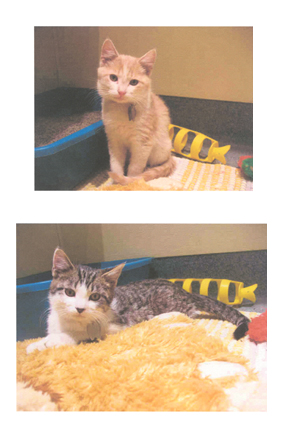 But I swear this is not going to turn into a cat blog!!!!
How do people manage to keep up with everything anyway? I don't seem to be doing very well with it.
________________________________________
If you like this post please share or vote for it below:
Stumble:
Kirtsy:
delicious:

reddit:

Digg:

________________________________________
If you like my blog please subscribe to read updates in a feed reader (what does this mean?) or by email!

Thanks! I really appreciate all your support!
________________________________________
Related Posts: