[I just realized I wrote this post last week and saved it but forgot to publish it.]
This week I've read Chapter 9 of 'Overcoming UnderEarning' by Barbara Stanny.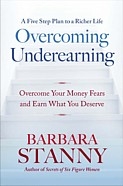 This chapter starts section 3 and is the second last chapter of the book.
"Your Game Plan"

"Think big. Act small. And never, ever stop until you attain your goal, no matter what."

Barbara reminds us that overcoming underearning is a gradual, long term process that involves following her 5 steps:
1) Tell the truth about what's not working, and what is.
2) Make a firm decision about what you truly want.
3) Look for opportunities to stretch by doing what you think you can't do.
4) Surround yourself with a supportive community.
5) Respect and appreciate money by taking good care of it.
The Overcoming Underearning Promise
Small steps consistently taken lead to remarkable results.
She also suggests a plan to help you get in the habit of respecting money:
1) Every day, read something about money.
2) Every week, have a conversation about money.
3) Every month, save.
Next are some exercises where you write out your earnings goal, list your next steps, write a contract with yourself and a couple more.
Next time – Chapter 10 – the last of the book.
Time for my favorite quote from this chapter:
"Thoughts become words. Words become actions. Actions become habits. Habits become character. Character becomes destiny."

— unknown
________________________________________
If you like this post please share or vote for it below:
Stumble:
Kirtsy:
delicious:

reddit:

Digg:

________________________________________
If you like my blog please subscribe to read updates in a feed reader (what does this mean?) or by email!

Thanks! I really appreciate all your support!
________________________________________
Related Posts:
Leave a Reply
Comments protected by Lucia's Linky Love.