Many people may think that working at home with a cute, innocent little puppy around must be the greatest thing in the world!
Puppies are cute as hell, but I've found that it is not easy to get a lot of work done with one around!
Between the frequent peepee and poopy breaks and keeping an eye on her to make sure she doesn't get into anything she shouldn't it can be hard to concentrate. Not to mention the lack of sleep and overseeing her interactions with her big kitty-cat brothers.
There must be some other work at home puppy moms out there with some advice to share! Work at home people mommies should have some of the same problems too – except maybe not the chewing on the shoes thing.
Please help! Any advice would be welcome! I want my web sites to be successful – but its hard with a little 8 week cute poopy monster around!
Here's the little monster: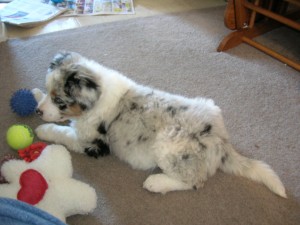 Here she is again in my office by her crate and a bunch of her toys: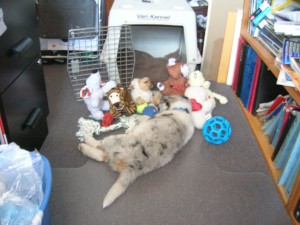 ________________________________________
If you like this post please share or vote for it below:
Stumble:
Kirtsy:
delicious:

reddit:

Digg:

________________________________________
If you like my blog please subscribe to read updates in a feed reader (what does this mean?) or by email!

Thanks! I really appreciate all your support!
________________________________________
Related Posts:
2 Responses to 'Help! Work at home puppy mom needs advice!'
Subscribe to comments with RSS or TrackBack to 'Help! Work at home puppy mom needs advice!'.



on June 27th, 2009 at 6:42 pm

I just always had the puppy nap on my lap while working on the computer! Suzanne




on December 12th, 2009 at 2:22 am

Are you crate training her? I definitely recommend it. It's a big part of the only way I know to housetrain a puppy.

Keep her on a leash when she isn't in her crate, and loop the leash around your belt/belt loop so she'll be right there with you. She'll want to be near you, anyway – part of being a pack animal. If she starts sniffing a lot or scratching, take her out immediately. Right after she eats or drinks, take her out to potty. When she potties, praise her like you do for nothing else.

When you leave home, she goes in the crate (unless she goes with you, of course). When you're taking a shower or otherwise can't be with the puppy, you crate her. Make the crate a pleasant place – that's her den. Don't ever crate her to punish her! You don't want it to be associated with anything bad. Wolves don't mess in their dens, and she'll learn not to mess in her crate. Eventually. She may have to have a potty break in the night until she's bigger, just like little humans can't make it through the night dry at first.

I miss having a dog. Enjoy her!
Leave a Reply
Comments protected by Lucia's Linky Love.