As I mentioned last time, my husband made me a desk for my treadmill.
It was a bit tricky because, as you can see below, the railings are not horizontal to the floor, they slope downward: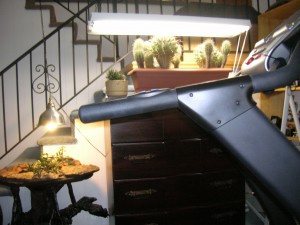 Here's the treadmill with the desk on it, shown from the front: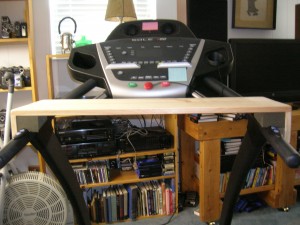 Here's from a side angle: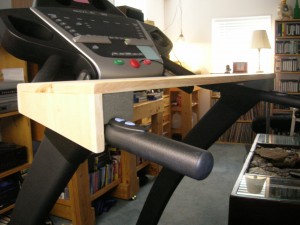 Here's a close up of how it fits on the railing. Notice the foam he used to make it sit flat on the railing: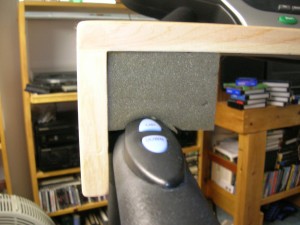 Here's two pictures of the underside, taken while not on the treadmill (obviously):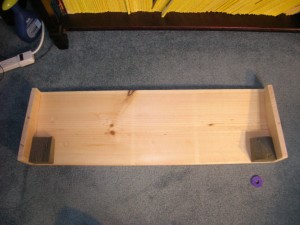 Here's the side so you can see how it is angled: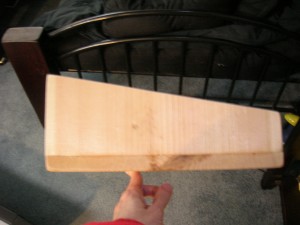 Please feel free to use this design on your own treadmill! If you have questions about how to make it, let me know and I can ask my husband. If your treadmill is the same type as ours, what I have should work exactly as it is on yours: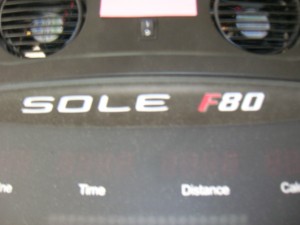 Since I usually use mine to read on, I need what I'm reading to be raised a bit or I have problems with my neck and back of head from from looking down the whole time. My husband made the additional stand to add height originally for another purpose. And then I use a cookbook stand I bought from Barnes and Noble for my book or magazine: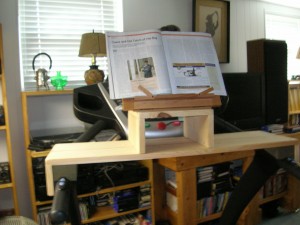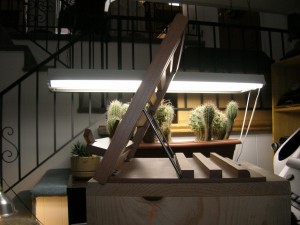 The additional stand does block the treadmill controls a bit, but not my that much. I just have to reach around or under to change the settings. But I really don't do that much anyway, since I usually just keep it at 1.5 the whole time.
For more information about treadmill desks, here are some posts and sites where I first learned about the idea:
Liz from Healthbolt: Is it a Computer? Is it a Treadmill?
Brandie at The Home Office Organizer: Standing Desks: A Smart, Healthy Option
Ning social network: Office Walkers
________________________________________
If you like this post please share or vote for it below:
Stumble:
Kirtsy:
delicious:

reddit:

Digg:

________________________________________
If you like my blog please subscribe to read updates in a feed reader (what does this mean?) or by email!

Thanks! I really appreciate all your support!
________________________________________
Related Posts:
5 Responses to 'My treadmill desk'
Subscribe to comments with RSS or TrackBack to 'My treadmill desk'.



on February 23rd, 2009 at 1:22 pm

Thanks for sharing this. What a great project! Walk away…




on March 3rd, 2009 at 7:38 pm

Great job. I have mine set up on my stepper machine. I have two versions one small one for reading and then a flat table top size for using the laptop.

I'll post pics on my blog tomorrow.

It is a great way to get that extra bit of exercise each day.

~ Jenn




on May 6th, 2009 at 7:04 pm

If you aren't handy you can buy a treadmill desk like the TrekDesk. I found it at http://www.trekdesk.com and it offers everything I need and would never be able to build myself.




on July 7th, 2009 at 12:12 am

Grate article i read it I have also using flat table, but it are very good, thanks for share it.




on August 1st, 2009 at 9:28 pm

love the article. You must be proud of your husband.
Got some inspiration from that article, gonna try it out myself.
Entire women
Leave a Reply
Comments protected by Lucia's Linky Love.