And yes, I realize we've been in the new year for quite a while.
And even though New Year's resolutions aren't alway a great idea because they can set people up for failure with too high of expectations – still, I find that the holidays often give me a break from everyday life to reevaluate where I am and where I want to be.
Health, being the most important thing, is a good thing to make steps to improve on when you do that evaluation.
Last year I tried to get involved with that WOMAN challenge thing but the pedometer I had missed most of my steps and made it just too frustrating to try to continue with it.
Over the holidays I bought myself a much better pedometer, an Omron, from Amazon: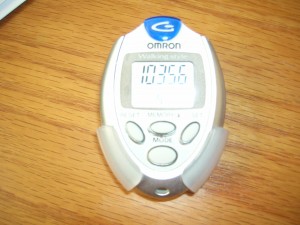 I tested it and while it does lose small number of steps, it really doesn't lose a significant number of them.
I decided to try to get to that magic number of 10,000 steps a day! What I found was finding the time to get that many steps in is the hardest part for me.
A few days a week I walk on our treadmill when I exercise, which gets me over half way there, along with regular day to day walking.
However, to get the rest of the steps in I realized I would need to use the treadmill more (at least in the winter). But how to find the time?
A while back I got interested in the idea of working while walking on a treadmill, but wasn't sure how to set something like that up. The commercial treadmill desks are pretty expensive.
Well, I finally got my husband to make me something to fit over my treadmill so I could at least read while walking!
Next week, I'll post pictures of how it was made so if anyone wants something similar, you can see how to do it!
Meanwhile, I've been doing pretty good with my steps. I noticed the pedometer that I have won't register steps on the treadmill unless I'm walking at least at 1.5 – which is a little bit faster than some people recommend for working on a treadmill.
To get to 10,000 steps I need to just walk about another 45 or so minutes at 1.5, which I can do most days. I usually do it while I catch up on my reading.
These are my numbers for the past week:
date steps
2/3/09 9600
2/4/09 8150
2/5/09 10356
2/6/09 10182
2/7/09 10259
2/8/09 5597
2/9/09 9851
The really low day was Sunday – I find it difficult sometimes to get up to 10,000 on weekend days. I need a day or two to rest!
I hope to eventually get 10,000 steps at least 5-6 days a week.
So do any of you use a pedometer? Is anyone else trying to get to 10,000 steps a day? Any tips to share for how to do it?
________________________________________
If you like this post please share or vote for it below:
Stumble:
Kirtsy:
delicious:

reddit:

Digg:

________________________________________
If you like my blog please subscribe to read updates in a feed reader (what does this mean?) or by email!

Thanks! I really appreciate all your support!
________________________________________
Related Posts:
Leave a Reply
Comments protected by Lucia's Linky Love.