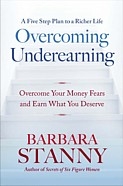 Sometime ago I was sent a copy of Barbara Stanny's book: Overcoming UnderEarning. She is a 'leading authority on women and money'.
I didn't have time to read it when I first got it – life got in the way.
I am definitely an underearner though – so I have a lot to learn and gain from this book. My plan is to read and review a section of the book about once a week.
More about Barbara Stanny – her web site is here: BarbaraStanny.com and she has a blog also. Other books she has written are "Prince Charming Isn't Coming: How Women Get Smart About Money" and "Secrets of Six Figure Women: Surprising Strategies to Up Your Earnings and Change Your Life".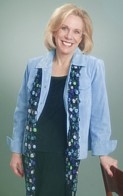 In the introduction to the book Barbara says that when she was growing up she didn't really learn about managing money. After a divorce and other financial problems she was left with a lot of debt and 3 daughters to raise. She went to a financial counselor who told her "You're an underearner". Eventually she figured out how to make more money. This book teaches women how to become financially independent and is also part workbook and part journal.
Barbara says in one place: "… I worked long and hard … I could not seem to make much money". That describes me very well! I know I don't make what I should – and I hope to learn something from this book that will help me too!
________________________________________
If you like this post please share or vote for it below:
Stumble:
Kirtsy:
delicious:

reddit:

Digg:

________________________________________
If you like my blog please subscribe to read updates in a feed reader (what does this mean?) or by email!

Thanks! I really appreciate all your support!
________________________________________
Related Posts:
4 Responses to 'Overcoming Underearning: Book Review'
Subscribe to comments with RSS or TrackBack to 'Overcoming Underearning: Book Review'.



on May 1st, 2008 at 9:23 am

Nice writing style. I will come back to read more posts from you.

Susan Kishner




on May 1st, 2008 at 8:06 pm

you have certainly peaked my interest….




on May 1st, 2008 at 8:15 pm

The book has peaked my interest too! I hope I learn something from it that helps me!

Thanks Susan!

Thanks both of you for stopping by!




on July 12th, 2009 at 7:36 am

I read this book about a year ago and it really made a big impression on me! I am certainly one of those women who has been an underearner. Oh there have been times when I earned in the 6 figures,I'd pay off debt, save a bunch of money, but then something would happen and I'd self sabotage and start underearning again. Ahhhh!!!! What's up with that?

Then I read this book and it changed a lot of things for me. Now I coach other women on how to listen to their true inner guidance, turn their negative beliefs about the selves and their abilities into positive ones and stop self-sabotaging behaviors once and for all. And I love it!
Leave a Reply
Comments protected by Lucia's Linky Love.