This week I've read Chapter 6 of 'Overcoming UnderEarning' by Barbara Stanny. (I'm a little sleepy tonight, so this might be a bit brief.)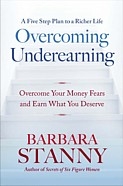 In this chapter Barbara goes through step 3 of the 5 steps to make you a 'doer'.
Step 3: Stretch
"Whenever you decide to do something different … the desired result always lies just beyond reach, in the Discomfort Zone."
I think I know where this is going and its already making me nervous!
"Your biggest barrier is fear."
Fear has always been my biggest problem with everything.
Barbara says "feel the fear, endure the discomfort, observe the resistance, and go for it anyway".
I've been trying that, but it isn't always easy.
"There's no escaping the Discomfort Zone."
I think you can escape it, but not if you want to be successful.
Next she has a Journal Exercise: "If you were not acting out of fear, what would you do?"
That's a good question. I need to think on that one a while. Sometimes I imagine what I would do if I were someone else in my situation. Generally, that 'someone' else is somebody who isn't afraid.
"From this day forward, find ways to stretch on a regular basis."
I need to do that too. Later in the chapter Barbara has a couple more exercises – 1) making a list of what you need to let go of that is holding you back; 2) think of and write down a stretch you want to take but have been afraid to.
That's three really important things I need to think about from this chapter:
1)What would I do if I wasn't afraid
2)what do I need to let go of
3)Think of a stretch to try everyday
Next time – Chapter 7.
Time for my favorite quote from this chapter:
"The question I ask every day is the same it's always been. How much further can I stretch to reach my fullest potential."

— Oprah Winfrey
________________________________________
If you like this post please share or vote for it below:
Stumble:
Kirtsy:
delicious:

reddit:

Digg:

________________________________________
If you like my blog please subscribe to read updates in a feed reader (what does this mean?) or by email!

Thanks! I really appreciate all your support!
________________________________________
Related Posts:
2 Responses to 'Overcoming Underearning: Book Review Part 7'
Subscribe to comments with RSS or TrackBack to 'Overcoming Underearning: Book Review Part 7'.



on June 20th, 2008 at 1:20 am

Hi Trisha,
Yes… the comfort zone is where most of us would like to stay.. but stretching beyond it really reaps rewards. And then we wonder why we were so worried about trying it in the first place.

Oprah's quote is so true. Can you imagine what our lives would be like if we did this every day.




on June 26th, 2008 at 4:47 pm

Trisha,

The tips you provided in this article are very informative. I had a problem of insecurity in my ability to start a business online and was afraid to go up against the big companies with large advertising and copywriting budgets.

This year I finally got out of my comfort zone and began to tool up my mental and business arsenal with tools such as glyphius(www.glyphius.com) that really helped me to overcome my low self confidence.
Leave a Reply
Comments protected by Lucia's Linky Love.