This week I've read Chapter 5 of 'Overcoming UnderEarning' by Barbara Stanny. Lots of good stuff in here, this will take a while.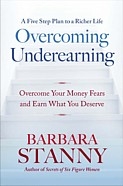 In this chapter Barbara goes through step 2 of the 5 steps to make you a 'doer'.
Step 2: Make a Decision
I have to quote some parts from the first part of the chapter which really stood out for me.
"Not one of us will ever make more money until we explicitly decide that's what we want to do. I saw this with every six-figure woman I spoke to."
She then explains that a decision is not the same as the goal you set for yourself. "A decision is a promise you make to yourself, a declaration of intention, that says you're willing to walk through fire to make it happen. "
Personally, I can say – I am ready to walk through fire to make it happen!
"Making a decision means slamming shut all the doors to other options, blocking off the exits, and, no matter what happens, keep moving toward your destination because anything else is unacceptable."
Barbara then relates a few examples then there's an exercise: Making Your Decision. I haven't finished going through it yet.
Next she talks about "The Grand Conundrum": a "deeply embedded, rarely conscious, internal conflict, often between the comfort motive and profit motive". She also explains about how it is necessary to live in a way that is consistent with your values – there can be no dispute between your values and goals. The next exercise involves listing out your values.
Once you make the decision she says 3 things will happen:
1) Coincidences – "You need to be stubborn about the results you're going for, but very flexible on how you get there." (This is something I'm getting better at, but still need to work on. I can get too caught up in doing a particular thing and lose sight of why I was doing it to start with and not realize there are other ways of getting to the same point.) It seems that once you are really determined to do something, some opportunities just seem to pop up out of nowhere.
2) Changes in other areas of your life – taking charge of your life is likely to result in some sort of 'shake up' – possibly both positive and negative. (When I read this what popped in my mind was Caroline Middlebrook and some of the things she's talked about in her blog.)
3) Resistance – "Resistance emerges as soon as you enter the Discomfort Zone, the space between where you are now and where you want to be". Barbara then lists 12 signs of being in resistance. I won't list them all here, just the ones that stood out to me:
— You're scared into inaction

— You fog up, space out

— You feel paralyzed

— You find reason not to act
I think the first one, fear, is what affects me the most. Lastly there is a section about decoding resistance and an exercise.
Ok – I'm I am ready to walk through fire now! I'm not letting fear hold me back!
Next time – Chapter 6.
Time for my favorite quote from this chapter:
"Money is a guarantee that we can have what we want in the future."

— Aristotle
________________________________________
If you like this post please share or vote for it below:
Stumble:
Kirtsy:
delicious:

reddit:

Digg:

________________________________________
If you like my blog please subscribe to read updates in a feed reader (what does this mean?) or by email!

Thanks! I really appreciate all your support!
________________________________________
Related Posts:
2 Responses to 'Overcoming Underearning: Book Review Part 6'
Subscribe to comments with RSS or TrackBack to 'Overcoming Underearning: Book Review Part 6'.



on June 13th, 2008 at 1:24 pm

Great job!!!! I love how you're summarizing the chapters in my book. And I really enjoy your personal commentary. Thanks so much for spreading the word!!

Barbara Stanny
http://www.barbarastanny.coom




on June 13th, 2008 at 4:07 pm

Thanks for stopping by and commenting!
Leave a Reply
Comments protected by Lucia's Linky Love.