If life hands you a tree make tree-ade – or so they say. Actually they say 'if life hands you lemons, make lemonade'. But you have to work with what you got.
Of course the point of the saying is that when something seemingly bad happens, you should try to find some way to make good use of it.
And that is true, many times things don't turn out the way we wanted but in the end we find something in the situation that isn't so bad. If fact sometimes we end up with something better than the thing we originally wanted.
Like in Office Space when the one guy backs out of his driveway, gets hit by a car and is severely injured and ends up getting a bunch of money from it and becomes rich.
Certainly my career hasn't turned out the way I had planned or had wanted it to. On the other hand, now I'm able to work from home and will, hopefully, someday be able to be a work at home mom and spend more time with my child than I would have been able to otherwise. And, if I work real hard and run into a bit of luck I may even be able to make more money than I would have if things had worked out differently.
However, in our case – today we were handed a tree on top of our shed and vegetable garden: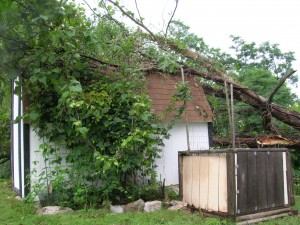 The only tree-ade I can see with this is that I hadn't written a post up yet for today – then the tree fell – and it gave me something to write a quick post about without a lot of effort.
So see – there's always a bright side to everything!
Want to see more pictures?
Here is the shed from the front: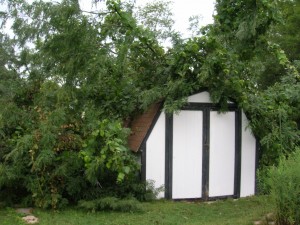 Here is a picture showing the vegetable garden covered with tree: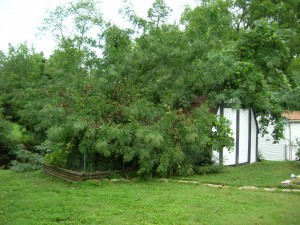 From the back: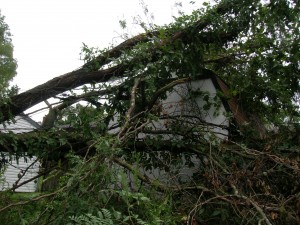 The back from the other side: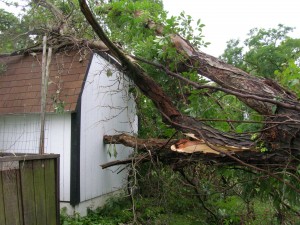 A couple other pictures: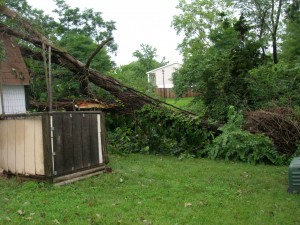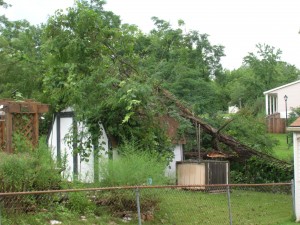 And for those interested, our neighbor Bob had part of a dead tree fall on fence a couple weeks ago. Lots of tree-ade in this neighborhood lately.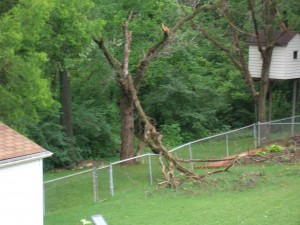 So remember – when things don't turn out how you wanted – look for ways to make tree-ade lemonade out of it!
________________________________________
If you like this post please share or vote for it below:
Stumble:
Kirtsy:
delicious:

reddit:

Digg:

________________________________________
If you like my blog please subscribe to read updates in a feed reader (what does this mean?) or by email!

Thanks! I really appreciate all your support!
________________________________________
Related Posts:
13 Responses to 'If life hands you a tree make tree-ade'
Subscribe to comments with RSS or TrackBack to 'If life hands you a tree make tree-ade'.



on July 28th, 2008 at 11:21 am

it must be tree-ade time of year. last week, an ENORMOUS oak tree fell across our fence. The tree belongs to neighbor (my father-inlaw), but it decided to fall on our property instead, and wreck the fence. But such is life.




on July 28th, 2008 at 11:29 am

Oh My goodness!

It's a beautiful tree too.

Maybe the leaves that fall off of it will help to re-vitalize your garden once you remove the tree.

We had a tree hit our car once during a storm and it left a big dent. We decided to leave the dent there and tell people that the tree gave our car more personality. =)

Good luck getting this cleaned up!

~Teresa

Teresas last blog post: Remembering the Good Ol' Days




on July 28th, 2008 at 11:29 am

What caused it to fall? Was it just dead? Was there a storm? I guess another angle to this is at least a tree didn't fall on you, your house or your car.

Kim Woodbridges last blog post: (Anti) Social-Lists – 7/27/08




on July 28th, 2008 at 11:43 am

Well, there is a creek behind our house and it rained a lot last night and this whole year and the tree has been leaning for a while due to the excess rain and the erosion from the creek around it. We knew it would happen eventually.

We have been planning to put a fence up too, so at least we didn't have it yet or it would have been damaged too.

The worst part is really that the tree was keeping the erosion along the creek in check a bit, now we will have a much worse problem.

I don't know that the tree falling will help the garden any. My husband is trying to come home from work early to start cleaning it up and I just hope none of his tomato plants got their stems broke off. And we had a big pumpkin under there some where, I hope it is ok. His peppers are more to the front, so I think they are alright. He had some really good beans growing in the back too that could have been damaged.

It looks like my newly-installed comment luv plugin is working on some posts – didn't pick up Donna's for some reason.




on July 28th, 2008 at 12:10 pm

Now would be a good time to think about planting some sort of nice ground cover to help with the erosion problem. Pretty…and functional.




on July 28th, 2008 at 12:50 pm

oh ouch! I think the tree-ade is the fact that it's not your house.

Well that, and if you have a fireplace, there's no need to buy firewood.

Might be time to get a specialist in there to see if there are any other trees that need to be taken care of before they fall too.




on July 28th, 2008 at 2:06 pm

By the way, I just tagged you for an award on my blog

judy haley (coffeejitters)s last blog post: Bird on a Wire




on July 28th, 2008 at 2:10 pm

TO the person who had the ENORMOUS oak tree fall on their fence: cut it and sell it as fire wood. You may make more than enough to pay for the fence.




on July 28th, 2008 at 4:51 pm

This is definitely tree-ade. More than the great pictures, I appreciate the great attitude!

Tricias last blog post: A Hypocrite's View of Leaving Home




on July 28th, 2008 at 7:33 pm

Hi Trisha, hope all goes well with this, and like some of the others my first thought was "cut it up for firewood!". I didn't think of selling it but you could probably get a good amt of $$ for it, cords of wood are way too expensive.

JoLynn Braleys last blog post: My 6 Day Mini Makeover Experiment Update




on July 29th, 2008 at 2:49 am

Bothering trees but pretty cool captures. I like the concept of your post.




on July 30th, 2008 at 4:08 pm

Ouch! Let's see… hmmm, bright sides to this… Okay, it didn't fall on people or on your house; firewood and firewood-related income potential; more sunlight with less tree; great photo opp and material for a blog post; plus, you get an excuse to re-build – the shed of your dreams, perhaps?

rjleamans last blog post: Wild Hippie Woman




on March 12th, 2009 at 6:03 am

At least you can replace the garden shed but the tree is gone forever. I lost a tree a few weeks ago when we had a storm so i know how you are feeling.
Leave a Reply
Comments protected by Lucia's Linky Love.