Happy Friday!
I found lots of good stuff on the web this week – so I will try to be brief with them so I don't overwhelm you!
What do you expect from your doctor?
JC at Brain Blogger asks "Patient Manifesto: What Do You Want, Expect and Deserve From Your Doctor?". He/She is really asking too – "I encourage everyone to comment …", things to consider: gender, personality, education, accessibility, management style, etc.
Liberty at Healthbolt also reminded us this week of 5 Things Women Do Wrong in the Doctor's Office: Do You?
Creepy Stuff!
A lot of bloggers (including myself) were thoroughly creeped out by the Purity Ball covered in the New York Times Magazine:
Work and Stress
JoLynn Braley tells us How To Stay Healthy & Fit While Working From Home
Still experiencing a lot of stress and tension? Tammy Lenski offers A simple meditation for tense and stressful moments
Food, food every where, but you can't get them to eat a bite of it!
Yuck to Yum shows us how to turn vegetables and chicken into Green Martians on Flying Saucers – if that's what it takes to get your kids to eat! More Kid friendly recipes including Swamp Monsters and Bugs in Rugs!
Health in the News
More Health
Fact or Ficton: Obesity is Contributing to Global Warming? – Liz from Healthbolt looks at the facts.
Waking up
One day, you wake up to realize that a particularly vital assumption about the world is wrong. Everyone who buys into it is wrong. Which is almost everyone in the world. Now what?
Humor
Dr. Val tells us Why Men Don't Write Advice Columns.
And yes, this might offend somebody – "back in the Middle Ages, sex was frowned upon. 'Carnal relations', even with one's wife, were considered filthy." There was even Penance for Sex.
Deep Stuff to think about
I haven't had time to read these myself yet – but they are on my to do list:
"Backward Time" in Literature Finds Real-World Parallel
Does Time Run Backward in Other Universes?
My God, It's Full Of Stars!
There's a mountain under water near New Zealand covered with tens of millions of starfish: My God, It's Full Of Stars!. BBC has a video!
Different Perspectives are Good
I'll leave you for the weekend with a different perspective: an image from NASA of the Earth and Moon as seen from Mars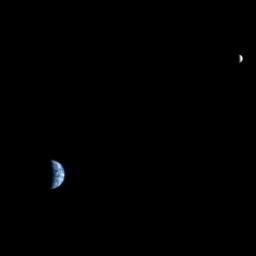 Have a great weekend!
________________________________________
If you like this post please share or vote for it below:
Stumble:
Kirtsy:
delicious:

reddit:

Digg:

________________________________________
If you like my blog please subscribe to read updates in a feed reader (what does this mean?) or by email!

Thanks! I really appreciate all your support!
________________________________________
Related Posts:
2 Responses to 'Friday Favorites'
Subscribe to comments with RSS or TrackBack to 'Friday Favorites'.



on May 26th, 2008 at 4:17 pm

Trisha, thanks for the shout out and link! I really like your Friday Favorites idea and see a number of items I'm going to sit down and read right now.




on May 29th, 2008 at 11:48 am

Hi Trisha,

Thank you so much for the link to my post re: how to stay healthy & fit while working from home, I appreciate it!

I also liked Tammy's post that you linked to, spot on for me (feeling stressed at this moment , lol). Thanks!
Leave a Reply
Comments protected by Lucia's Linky Love.