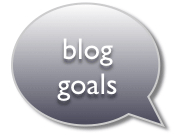 Darren Rowse at ProBlogger has a new post on his blog about Blog Goals and I have decided to participate.
What I need to do to participate is to write a post about what my goals are – that's what I'm doing now. Then when I am finished I need to send him an email with the url for this post.
Hopefully these goals are written in a general enough way to be useful to anyone else who has a blog too.
My blogging goals:
1) Post more frequently and consistently: I'd like to try to post about 3-5 times a week – that may not seem like much to some people, but the time I can spend on this blog is limited and some of my posts take a while to write.
2) Improve post topic quality: I need to spend more time reading original science journal articles to post about – and have 1+ posts a week based on a journal article.
3) Participate more at and with other blogs: This something I've been bad about not doing in the past.
4) Keep on topic: Occasionally post about something other than the main topic of my blog, no more than one post a week that is not health related.
5) Increase interactivity with readers: I will add a poll to this blog to get more feedback from readers. I'm not sure how to get more people to comment though.
6) Improve writing skills: I need to work on letting my personality show through more in my posts
7) Start a new blog: I'd like to start a general science blog, this is something that I would really like to do someday, it would mean a lot to me.
8) Find a paying blogging opportunity: I would like to find a way to get paid to blog, unless I can get my own traffic up quite a bit.
Issues that may interfere with achieving these goals:
1) Time – this could effect goals 1-3 and 7.
2) Money – if I don't make more money by other means I may not be able to do 7.
3) Me being shy and not knowing enough people could be a problem with 8.
That's all I can think of now – I'll add more if I think of something.
(Technorati Tags: Darren Rowse, ProBlogger, blogging, goals)
________________________________________
If you like this post please share or vote for it below:
Stumble:
Kirtsy:
delicious:

reddit:

Digg:

________________________________________
If you like my blog please subscribe to read updates in a feed reader (what does this mean?) or by email!

Thanks! I really appreciate all your support!
________________________________________
Related Posts:
10 Responses to 'Blogs, my Goals and Everything'
Subscribe to comments with RSS or TrackBack to 'Blogs, my Goals and Everything'.



on June 6th, 2006 at 9:08 am

Hey Trisha, Let's talk about you writing a general science blog of some sort for b5media when the freeze on new blogs is over.




on June 6th, 2006 at 7:11 pm

I think you're on the right track. What great posts you're writing! Your blog looks fabulous too. Thanks for stopping by my blog tonight.

Liz




on June 6th, 2006 at 7:22 pm

Hey Trisha,
I stopped by because I like time travel in my Tardis.
Joe




on June 6th, 2006 at 7:25 pm

BTW, I like your attitude toward Blogging, Keep it up and you will go far. You already are taking some of the steps you mentioned. Just don't forget to re-read this article once in a while to remind yourself of you Blogging Goals.
Joe




on June 6th, 2006 at 9:11 pm

[…] Blogs, My Goals and Everything by Trisha […]




on June 6th, 2006 at 9:50 pm

Issues here are equally of interest to men. No?




on June 7th, 2006 at 4:54 pm

Wow! Lots of comments!

Hsien – Cool! I'll keep in touch to find out when that freeze is over!

Liz – Thanks!

Joe – if you've got a Tardis – get me one too! And yes, I will have to remember to check it again now and then. But I think I'm already not doing what I said I would.

shi – do you mean the health issues on the blog? – some yes, some no.




on June 8th, 2006 at 7:22 am

I have personally found Number 1 to be a very important goal for getting more traffic. Also, I was curious how much direct traffic you got from being at the top of ProBlogger's list yesterday. Would you care to share that information?




on June 10th, 2006 at 11:46 pm

Your topics are quite difficult so you really need to put that personality into your writing. Even the reader would be starving to get the information, there is always the chance that they go and get is somewhere else. Until now, you have done remarkably good work.




on July 18th, 2006 at 6:08 pm

[…] Ann Michael took a Sanity Check! Hock Ng considered Being a Purple Cow. Trisha discussed Blogs, my Goals and Everything. Rod at Wintermute added perspective in Blogging for Myself. Sheila Scarborough was quite clear. She said to Prevent a Midlife Crisis – Blog! […]
Leave a Reply
Comments protected by Lucia's Linky Love.