Today, the second day of National Women's Health Week, is: National Women's Check-Up Day!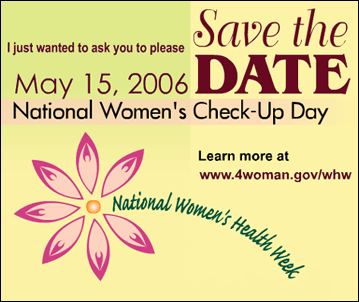 Around the country many hospitals and other health care centers will be providing preventive health screenings to women.
Just a bit of criticism here: according to the 'The National Women's Health Information Center' we are supposed to
'contact their existing health care providers or one of the participating health care providers to schedule check-ups and screening services that day'. While it is of course good that the country is acknowledging the fact that many women need to be checked for many illnesses – it seems kind of silly to suggest we all do it today. I see my doctor every January – am I supposed to go again today? Of course not. Instead they should just emphasis an awareness of the importance of regular exams. It's not like we could all get our appointment on the same day of the year anyway!
So if you do see a doctor on a regular basis and are up to date on any tests or screenings you need – sit back and relax (or more likely work) today! If you haven't however – you really should stop and make and appointment with your doctor to keep yourself as healthy as possible.
________________________________________
If you like this post please share or vote for it below:
Stumble:
Kirtsy:
delicious:

reddit:

Digg:

________________________________________
If you like my blog please subscribe to read updates in a feed reader (what does this mean?) or by email!

Thanks! I really appreciate all your support!
________________________________________
Related Posts:
One Response to 'National Women's Check-Up Day'
Subscribe to comments with RSS or TrackBack to 'National Women's Check-Up Day'.



on May 15th, 2006 at 5:32 pm

Great Blog! I wanted to introduce myself. I'm Ilan Kwittken and I have a blog that's a great free resource for women. http://www.chicilan.com
Leave a Reply
Comments protected by Lucia's Linky Love.