Home > Women's History Month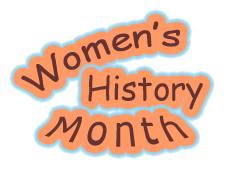 Women's History Month Information and Activities
March is Women's History Month and March 8th is International Women's Day!

To celebrate the month activities and information about women who have contributed something significant to the world will be added to the site.

In the first part to be presented are a group of women who helped get women the right to vote and other basic rights.

Future sections will include women who helped with fighting to end slavery and women who were scientists.

Read biographies about Elizabeth Cady Stanton, Susan B. Anthony, Lucretia Mott, Margaret Sanger and Betty Friedan.

Do a word search of words about women's rights! (printer friendly)

Solve a crossword puzzle about women's rights! (printer friendly)

Other Learning Activities: Answer questions, Match-The-Quotes, and unscramble words about the women's rights movement! (printer friendly)


Note to teacher and parents: All in the information needed to solve the crossword puzzles, etc. are in the biographies above. Also, the text on the main women's rights page contains all the answers (except the Match-The-Quotes), but written in a more simpler language for those who are younger.