Even though this isn't a political blog – my plan is to include topics that involve issues that women can get involved with and help to change the world for the better, for all of us. This U.S. election has stood out as a way we can all be involved and make life better for all of us so I have written about it a lot.
Before the election tomorrow, I have a few things left I want to share about it (not necessarily in any particular order).
1) Anyone expecting really long wait times tomorrow to vote? I'm in Missouri and we don't have early voting here. I'm planning to vote early, then start volunteering to make sure the Obama supporters in the area actually go out and vote. I believe they are also planning – if the line wait time is really long – to maybe bring coffee, etc. to people waiting so they won't leave. I'm planning to bring something to drink with me, some granola bars, maybe something to read and an mp3 player – just in case! But what if I have to use a bathroom? I don't know how that will work. Will people have to lose their place in line?
2) Hopefully the lines won't be real long and I will be able to get home at a reasonable time. Then I plan to follow the results coming in on TV and if I have enough energy I'll be on twitter.
3) I made an Obama 'Barack O'Lantern' for Halloween! First time I've ever carved a pumpkin myself. I got the stencil from Yes We Carve.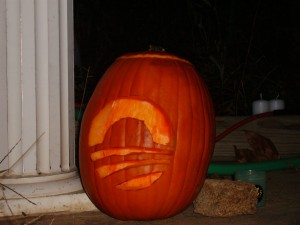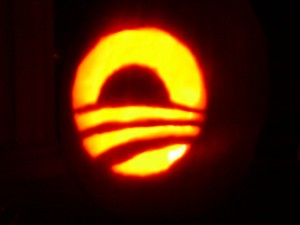 I had fun on Halloween, even dressed up – but we didn't have nearly as many kids at our house this year. Here are a few halloween pictures – me with my big spider puppet, our giant spider and fake cemetery"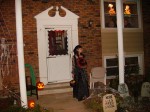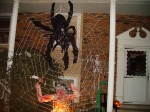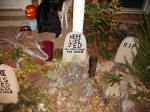 4) Have you seen these yet:
That's one of the funniest things I've seen!
If you want to send it to people, go here: http://is.gd/6fGV and click on the button that says 'Customize This Video For Your Friends'. I think some of them didn't get through to some people I sent them to though, maybe they got tagged as spam. It may be better to set it up with a friends name but then have it sent to your address. You can then use a url shortening service (like http://is.gd/) to send the link to them in an email you write yourself (rather then the default text that is used).
5) Little Opie Cunningham, Andy and the Fonz tell us why we should vote for Obama:
6) This may not interest most people, but the following is a video made by a Canadian site about the Obama campaign in Missouri:
http://www.cbc.ca/sunday/2008/10/102608_1.html
7) Paying taxes is patriotic!
People who are patriotic, presumably, want their country to be strong and a good place for its citizens to live. What makes a country a good place to live in?
Good schools, hospitals, enforcement of law and public order, public transportation, energy, water and waste management systems, social services, infrastructure – such as roads and safe bridges.
What pays for these things? Taxes!
8 ) I really like this post by Joanne Bamberger: Excuse Me, Senator McCain — What I Want for My Daughter Isn't About Being Liberal or Conservative.
Now – go out and vote tomorrow! – If you haven't already!
________________________________________
If you like this post please share or vote for it below:
Stumble:
Kirtsy:
delicious:

reddit:

Digg:

________________________________________
If you like my blog please subscribe to read updates in a feed reader (what does this mean?) or by email!

Thanks! I really appreciate all your support!
________________________________________
Related Posts:
2 Responses to 'One last pre-election post'
Subscribe to comments with RSS or TrackBack to 'One last pre-election post'.



on November 4th, 2008 at 5:00 pm

Thanks for the kind words about my post!




on November 5th, 2008 at 3:27 pm

Let's hope that with this change that women and families really are the real winners in this election.
Leave a Reply
Comments protected by Lucia's Linky Love.