(Today's post is a guest post from my husband in honor of a classmate that died on 9/11 and for the 2008 List of Tributes)
Robert Fazio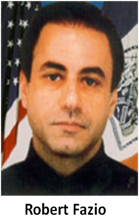 Robert Fazio and I grew up in South Hempstead, Long Island and were classmates and attended the same elementary, junior high and high school. Robert was a kind young man. As a child, I often was ridiculed for not being able to play sports and for having a family with siblings that were troubled.
Robert never seemed to have any malice in his heart and I can't remember a single time when he joined in on the taunts made by the other kids in our class. When we were younger, we often played with the other kids our age. The kids from our town had a special understanding amongst us. We were not welcome into the Junior and Senior high school we attended. The schools were located in a much more affluent town and often we were referred to as "Hempers" due to our being from S. Hempstead. We were often looked down upon by the rich kids and they considered us to be of a lower class. Because of this, many of us from our town shared a certain level of respect and protectionism for our fellow town members. This feeling carried on in many of us long after we graduated and went our separate ways.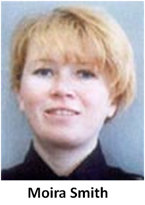 Robert worked out of the 13th precinct of Manhattan South at the time of the attacks. Robert was killed in Tower 2 of the WTC along with his brave partner Moira Smith. They lead hundreds of people to safety, calmly and without any regard for their own safety. They sacrificed their lives to save so many people they didn't know. This came as no surprise to me. Robert had always shown compassion and kindness when we were kids and this character remained a hallmark of who he was all through out his life.
When I return to our hometown, I am only slightly comforted by the memorial that was built in his honor in front of the South Hempstead fire department. They lost one of their own on that day as well. Those of us who had friends and families who perished on that day or those of us who knew others who had friends and family perish on that day, will be forever changed. I was a teenager when the twin towers were built. To many of us on Long Island, the twin towers symbolized world peace through international cooperation in commerce. For many of us, this dream was crushed temporarily by the collapse of the towers and the loss of so many good people.
I had the honor of meeting a police officer who stood guard while they removed Roberts remains. He was identified by his badge, not pulverized by the enormous weight of the tower. I will never forget the handshake she offered me while I showed her his picture and cried looking over the rubble. It was the middle of winter at that time. The officer removed her glove and offered her hand to console me. I walked around the city, close to the giant hole where the towers I could see majestically stand, viewed from our island and tried to comprehend the hatred that caused such loss. It is the spirit of Robert and his partner Moira and their selfless sacrifice that sustains me on this dreadful day and I will never forget them.
________________________________________
If you like this post please share or vote for it below:
Stumble:
Kirtsy:
delicious:

reddit:

Digg:

________________________________________
If you like my blog please subscribe to read updates in a feed reader (what does this mean?) or by email!

Thanks! I really appreciate all your support!
________________________________________
Related Posts:
3 Responses to '9/11 Tribute to Robert Fazio'
Subscribe to comments with RSS or TrackBack to '9/11 Tribute to Robert Fazio'.



on September 11th, 2008 at 10:29 am

Thank you for sharing this wonderful tribute. It brought tears to my eyes. Robert sounds like a wonderful man, and I offer you my condolences on losing a kind and caring friend.




on September 11th, 2008 at 8:01 pm

Thanks for the tribute, my thoughts and with all the families. All our lives were affected that day, some greater than others. My condolences.

-Tabs

Tabss last blog post: How to Think The Certain Way Using the Science of Getting Rich from her/his blog at http://www.levnow.com/blog




on September 13th, 2008 at 3:57 pm

While I never knew Robert personally, I knew of him through my high school girlfriend at the time, Renee Langdon.

I think I met Robert once while with Renee and if I recall correctly we all drove in his car (a hot rod type, very cool at the time) out to the infamous Amityville house. I remember it being a blast. Must have been around 1977-1978.

He obviously was an incredible individual, and my condolences go out to his family and friends, as well as those of Officer Smith.

Mark.
Leave a Reply
Comments protected by Lucia's Linky Love.