(Today's guest post is from Holly Zhao writing for Women for Women International's 2008 Run for Congo Women. This is a very important cause and one where women can help other women less fortunate than themselves and contribute to changing the world to be a better place for all of us. Please take some time to read her post.)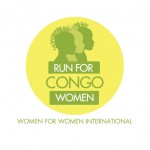 Today in the Democratic Republic of Congo, people are still struggling to recover after one of the deadliest wars in history. Because of the violent internal strife, over 5.4 million have died and new conflicts continue to arise and threaten peace every day. Women in Congo are targeted daily for sexual slavery, torture, and brutal gang rape. But despite this horrific violence, the situation in the Congo receives almost no media coverage and many are not even aware that this conflict is even happening.
Run for Congo Women is a grassroots run/walk that has grown into a global movement and is dedicated to raising awareness about this issue and supporting Women for Women International's Congo Program. When you Run for Congo Women, you are sending a simple message of hope: that Congolese women are significant, that their lives are precious, and that you are running to help. Because of your efforts, you will be able to provide women with the chance to recover hope and rebuild their families after their lives have been torn apart by war.
Run for Congo Women will be coming to the following cities! Sign up and register today!
Morrison, CO – September 13, 2008
Portland, OR – September 14, 2008
New York, NY – October 4, 2008
Phoenix/Tempe, AZ- October 5, 2008
Chicago, IL – October 11, 2008
St. Louis, MO – October 18, 2008
To register today and for more information, visit www.runforcongowomen.org. You have the opportunity to change the life of a Congolese woman today.

________________________________________
If you like this post please share or vote for it below:
Stumble:
Kirtsy:
delicious:

reddit:

Digg:

________________________________________
If you like my blog please subscribe to read updates in a feed reader (what does this mean?) or by email!

Thanks! I really appreciate all your support!
________________________________________
Related Posts:
One Response to '2008 Run for Congo Women'
Subscribe to comments with RSS or TrackBack to '2008 Run for Congo Women'.



on December 7th, 2008 at 2:04 pm

When will the politians of the world finally stop talking and start taking some serious action in order to make an end to this cruelty? It's also time for a change in that region!
http://ginovandewalle.com/the-worlds-need-to-help-eastern-congo-now-this-cruelty-must-stop/

Gino Van de Walles last blog post: Belgian Minister of Defense under attack by bloggers from her/his blog at http://www.ginovandewalle.com
Leave a Reply
Comments protected by Lucia's Linky Love.