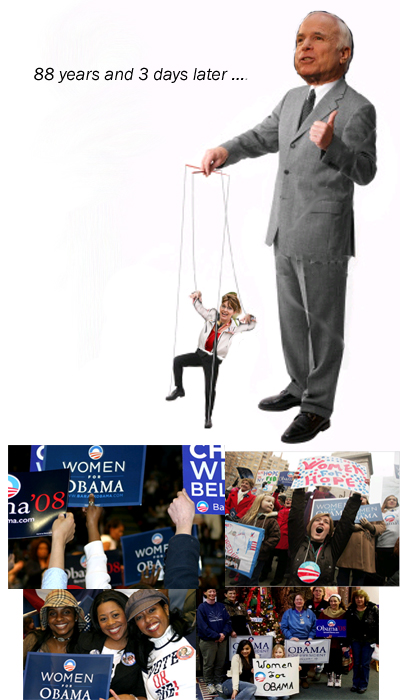 After 88 years and 3 days this is all the further we've come? The Republican party thinks they can use a woman as a puppet and manipulate the vote of women by dangling the token woman over us?
I don't think so: no sex over substance! Sarah Palin may be a nice person – but she's anti-choice and doesn't have the experience to run the country if McCain dies. A woman as VP would be nice – but a woman for the sake of a woman if she's not qualified is not what women need or want.
________________________________________
If you like this post please share or vote for it below:
Stumble:
Kirtsy:
delicious:

reddit:

Digg:

________________________________________
If you like my blog please subscribe to read updates in a feed reader (what does this mean?) or by email!

Thanks! I really appreciate all your support!
________________________________________
Related Posts:
2 Responses to '88 years and 3 days later …'
Subscribe to comments with RSS or TrackBack to '88 years and 3 days later …'.



on September 2nd, 2008 at 9:55 am

This election has revealed how far we have to go. There are certainly many other Republican women with greater qualifications. McCain's pick does reveal, in my opinion, quite a bit about his judgment and character. I suspect that if this year's race had not included a woman and African American the Republican pick would have been completely different. We as a country have progressed but there is much work to be done.

Karen Swims last blog post: Guest Post Today at Word Sell from her/his blog at http://wordsforhirellc.com/blog




on September 3rd, 2008 at 9:13 am

Whatever the outcome, it will still be a historical election. However, I did burst out laughing when I saw the news when they announced McCain's running mate. It is too obvious that they are hoping to get the "women" votes. Come one, give us more credit! We are not going to vote for someone just because the candidate is a woman!
Leave a Reply
Comments protected by Lucia's Linky Love.