I've been upset for a couple days about this and wasn't quite sure what to do but after some thought I decided to share it here in my blog.
This past Tuesday, the 5th, in the state of Missouri we had our third of 3 sets of primaries this year. The first was for the president, the second for local things like the school board and this one was for everything else – governor, US senate race, state senate and house, etc.
When I went in to vote at our local polling place (Bowles Elementary School, Fenton, MO) around 11:00 AM I found that they had the electronic voting machines set up so that they were facing out towards the center of the room, instead of facing the wall as they had been previously.
I don't know how it works where you live, but I've seen on TV where some places have little curtains for people to close to give them more privacy – but we've never had those here.
The picture below is a rough sketch of how the room – a local school library – was set up. (Please forgive my lack of artistic ability!):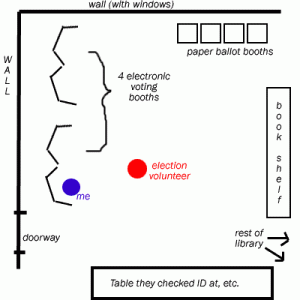 I was the blue dot in the picture with my back facing the rest of the room. Anyone else who came in to vote had to pass behind the backs of the voters using the electronic machines.
The red dot was one of the volunteers (didn't get his name) who was standing just a few feet behind me while I was trying to vote.
I should point out that the 'old fashioned' paper ballot booths are boxed in on 3 sides and the ballot lays horizontally on the bottom – a person would have to get awfully close behind a voter to see what you were doing.
With electronic machines the screen where you touch to vote is nearly vertical – so at least theoretically a person behind you could see what you were doing. I imagine a really large sized person's body could provide enough cover to prevent anyone from seeing anything. But many people, including myself, are not very big and my body wouldn't provide enough cover.
So to get to the point – how did this set up of the voting machines insure my privacy? It didn't.
I complained to the guy standing there (the red dot) and he just kind of made a slight smirk, shrugged his shoulders and said it was the best they could do.
How is that the best they could do? In the past they did have the machines facing the wall. Granted there is the issue of some windows on that back wall. But there was still room where they could have been set up facing the other wall. Not to mention the rest of the library which had no windows. But god forbid they might have actually had to move something around in the other part of the library so citizens could have privacy while voting.
Or used a different part of the school. They used to use the cafeteria. I can imagine how that could be disruptive for the school – surely there was someplace in that school where the voting booths could have been set up that would have given voters privacy. And if not, they should moved the polling place to some place where we could vote privately.
Now I'm not trying to claim the election volunteer that was standing there behind me was actually spying on me personally or that he had any malicious intentions – but isn't there a law or rule somewhere that says we should be able to vote privately? And I did feel uncomfortable and a bit intimidated while voting with the guy there behind me like that and my back to the rest of the room. When I was reviewing my ballot I really couldn't concentrate and didn't check it well.
I was still pretty pissed by the time I got home and called the Board of Election Commissioners at 314-615-1800. The person (a woman, didn't get name) I talked to was really nice and connected me to the person that I needed to talk to. That person (male, didn't get name) was also very nice and said they would send someone over there.
Well, when my husband went to vote right before they closed at 7:00 – he said the machines were all still facing toward the middle of the room. So what happened? Did the Board of Election Commissioners not follow through, or did the people who were supposed to go there to check it blow it off and not go or maybe they just decided not to say anything. Or did the volunteers there somehow convince them that there was no alternative way of setting up the machines?
What do I do next? Its late in the day now, but I guess I'll call the Board of Election Commissioners again tomorrow and ask why the machines had not been turned around. And I need to do some searches and find out what the regulations are concerning these things.
Anyone out there an expert on voting privacy laws? Or know someone who is that you could forward this to?
And what happens in November if they do it this way again? Will my complaining make any difference? Or in the state of Missouri do I just have to put up with not feeling like I have privacy while voting?
________________________________________
If you like this post please share or vote for it below:
Stumble:
Kirtsy:
delicious:

reddit:

Digg:

________________________________________
If you like my blog please subscribe to read updates in a feed reader (what does this mean?) or by email!

Thanks! I really appreciate all your support!
________________________________________
Related Posts:
3 Responses to 'Missouri doesn't allow privacy in voting, apparently'
Subscribe to comments with RSS or TrackBack to 'Missouri doesn't allow privacy in voting, apparently'.



on August 16th, 2008 at 5:16 pm

Hi Trisha,

I found your site through BlogHer. I don't know what else to do besides what you did, but I admire your pursuing the issue. I would be upset, too. Even if your voice gets lost in the bureaucracy, together with other voices it may be heard.

Good Luck!

Ginas last blog post: How technology affects language




on September 10th, 2008 at 3:06 pm

I live in St. Louis and had a similar experience as far as the booth set up. I did not pursue it as you have though. After reading this blog I did a little checking around and found the following:

"The Federal Election Commission has issued a set of Voting System Standards (VSS)14 that serve as a model of functional requirements that elections systems must meet before they can be certified for use in an election. The VSS state explicitly:

To facilitate casting a ballot, all systems shall:

[…] Protect the secrecy of the vote such that the system cannot reveal any information about how a particular voter voted, except as otherwise required by individual State law;15

and:

All systems shall provide voting booths [that shall] provide privacy for the voter, and be designed in such a way as to prevent observation of the ballot by any person other than the voter;16″

The source is located here: infolab.stanford.edu/pub/keller/2005/privacy-electronic-voting-chapter.pdf




on October 13th, 2008 at 8:03 pm

I live in Missouri in an area where privacy is CRITICAL…to safety, security, well being, etc. I was appalled when i went to vote and frankly, I'm afraid to go to the polls in November.
Leave a Reply
Comments protected by Lucia's Linky Love.