This week I've read Chapter 7 of 'Overcoming UnderEarning' by Barbara Stanny.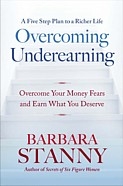 In this chapter Barbara goes through step 4 of the 5 steps to make you a 'doer'.
Step 4: Create Community
Barbara explains how there were some people she worked with who worked really hard to get ahead, but still weren't. She calls them the 'Doers Who Didn't'. She realized that it is important to interact with people who were supportive. And that 'underearners either operate in isolation or gravitate to people like themselves'. (I think this is a key thing for me – I'm pretty isolated.)
She then goes on to list the 4 kinds of supporters: True Believers, Confidantes, Way Showers (role models) and Messengers. She has an exercise where you are supposed to list all the people in your life in those 4 categories and also the naysayers. I didn't have many people to list in those first 4 categories. Although the Way Showers don't have to be people you've actually met or who know you, so I could think of some people to add there.
Barbara then goes through 6 principles to create a powerful community:
1) Realize no one will do this for me, but I don't have to do it alone.

2) Reach out, ask for support.

3) Hang out with the kind of people you want to be, not who you've been. (But how do you find these people or even get them to give you the time of day when you do?)

4) Recognize the role of the naysayer.

5) Watch what you talk about.

6) Respect yourself by taking time for you.
In general this whole idea of creating a community sounds a lot like what you need to do to have a successful web site or blog. And is something I've been working on. It doesn't come easy for me – I've pretty much always worked in isolation.
Next time – Chapter 8.
Time for my favorite quote from this chapter:
"Apologizing for unintentional, low-profile, non egregious errors erodes our self-confidence and, in turn, the confidence others have in us."

— Lois Frankel, author of Nice Girls Don't Get the Corner Office
Sorry this weeks review is kind of short – uh oh – I'm apologizing for an unintentional, low-profile, non egregious error! You're not going to lose confidence in me are you?
________________________________________
If you like this post please share or vote for it below:
Stumble:
Kirtsy:
delicious:

reddit:

Digg:

________________________________________
If you like my blog please subscribe to read updates in a feed reader (what does this mean?) or by email!

Thanks! I really appreciate all your support!
________________________________________
Related Posts:
One Response to 'Overcoming Underearning: Book Review Part 8'
Subscribe to comments with RSS or TrackBack to 'Overcoming Underearning: Book Review Part 8'.



on June 29th, 2008 at 5:43 am

WOW Trish, this seems like a pretty interesting book. So much of what I've read in this review is true, in particular, the apology quote. Thank You for sharing.
Leave a Reply
Comments protected by Lucia's Linky Love.